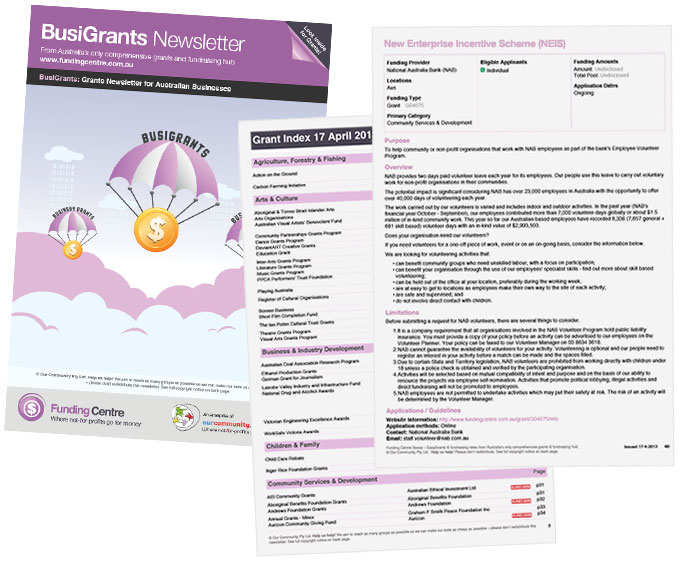 BusiGrants: Grants Database for Australian Businesses
Each year federal, state and local governments give away hundreds of millions of dollars to support thousands of businesses across Australia.
BusiGrants is the newsletter of the Funding Centre (and Australia's best tool for finding out about grants and fundraising) designed and priced for Business and Government.
BusiGrants allows you to keep up to date with all of the funding opportunities available from all sources to help grow and sustain your business.
A BusiGrants subscription entitles you to:
Grants database access: Unlimited search results from Australia's most comprehensive grants database
Regular PDF grants newsletter: A listing of all the currently open grants, customised according to your user profile and sent via email once a month (excluding January when the grants landscape largely goes into hibernation)
Grant alerts: Customised email alerts to let you know of major changes to grants - rounds opened, guidelines changed, etc. (you choose the frequency and the content of alerts)
Multiple users: Customised access for up to 10 users
SmartyFile (coming soon): Access to your own private organisational 'SmartyFile' - upload and store all your key grantseeking facts and documents (insurance, ABN, etc.)
BusiGrants is produced by the Funding Centre, an OurCommunity.com.au service. While most services provided by the Funding Centre are designed for not-for-profit organisations, BusiGrants remains a business-focussed product.
View a sample newsletter
View a Funding Centre brochure