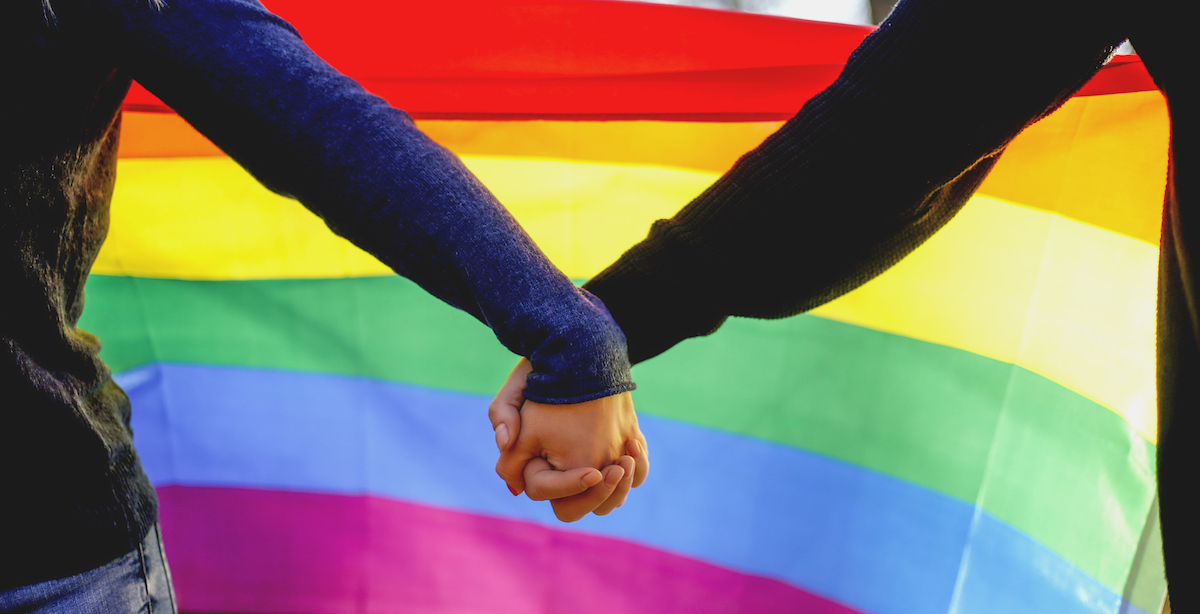 LGBTIQ+ groups flick the fundraising switch to disco
By Matthew Schulz, journalist, Our Community
With the pandemic upending traditional fundraising, it's going to take creativity, innovation, determination and adaptability to raise the cash you need to keep your organisation strong.
One effort that pulls those threads together is the GiveOUT Day fundraising blitz for LGBTIQ+ causes on Friday, October 16.
GiveOUT (formerly The Channel Giving Circle) is dedicated to helping the gay, lesbian, bisexual, transgender and intersex community. As well as fundraising for the rainbow community, it's a resource hub for other LGBTIQ+ groups.
In 2019, the first GiveOUT Day raised $85,000 for scores of groups. This year, the organisers have set a target of $100,000.
The event is billed as "growing the pot of gold under the rainbow and changing the way Australians experience gender and sexuality – for the better!" Already, donors have pledged more than $16,000, and more than 40 organisations and projects have signed up to raise funds.
The colourful parties and events that the queer community is known for are off limits because of COVID restrictions, so how will the GiveOUT crew pull this one off?
In short, with every trick in the book. Here's how you can follow their lead.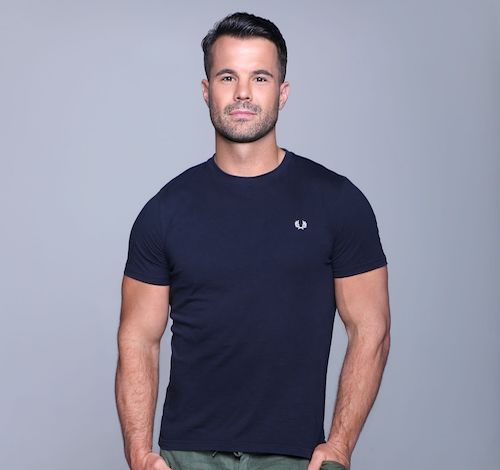 Former Olympian and activist Simon Dunn is helping promote the event.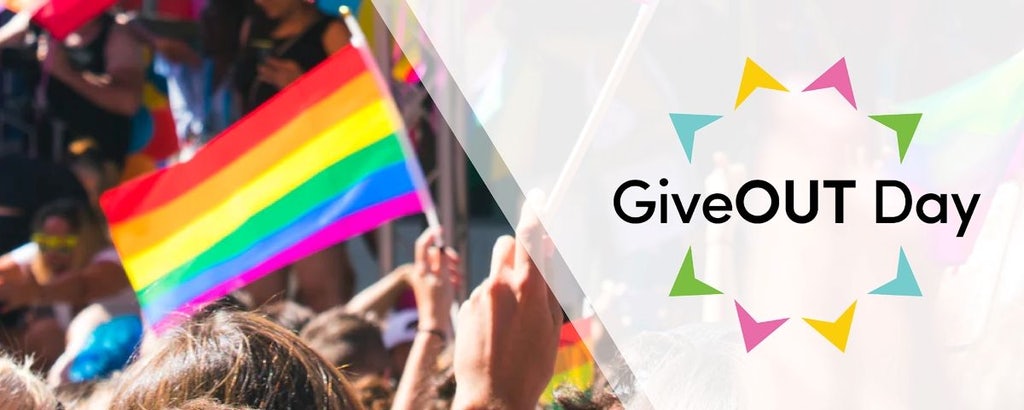 Go hard, go digital
Online fundraisers are now "de rigueur" for most groups, especially those with a national flavour.
GiveOUT is no different, and this year GiveOUT Day's fundraising efforts will be largely online. The organisation's slick online platform profiles the many organisations involved in the day, and allows potential supporters to explore causes ranging from DiversityACT's online sausage sizzle to the Central Coast Pride's "Coastal TWIST Festival" on the NSW central coast.
GiveOUT has this year partnered with The Funding Network (TFN), which specialises in live "pitching" fundraising events.
TFN Virtual Rainbow will see three groups pitching for support: LGBTQ Domestic Violence Awareness Foundation, Rainbow Families and Transgender Victoria.
Each group will have a short time to pitch its cause, with live donations from the audience and matching donations from sponsors and organisers at stake.
The GiveOUT organisers have invited more than 150 business leaders, philanthropists, and community-minded individuals to join in, with the goal of raising at least $30,000 for each of the programs.
GiveOUT's managing director, Neil Pharaoh, said the pandemic meant its fundraiser was more vital than ever.
"COVID is hitting these organisations hard. Small-scale fundraising has been obliterated. Some community organisations are very small and run on less than $1,000 each year, which is usually raised via in-person events."
"We as a community are more likely than ever to need these charitable organisations, but unfortunately we're more inclined to spend our money on a fancy bottle of wine than think to donate where it's most needed. Let's instead enjoy some cask wine on Give Out Day and use the extra to help the LQBTIQ+ community."
Diversify your fundraising with the 'seven pillars'
Our Community's grants and fundraising hub, the Funding Centre, teaches organisations that a sustainable fundraising strategy requires diverse sources of funding.
The Seven Pillars of Fundraising, as outlined in this help sheet, are:
Grants
Donations
Crowdfunding
Membership/alumni
Special events
Sales
Community-business partnerships (sponsorships)
GiveOUT has many of those bases covered. Here's how.
In terms of grants, it's already won support from business and philanthropic funds for its big day on October 16:
Sidney Myer Fund – $5,000 grant for operational activities
Reichstein Foundation – $6,000 for donation matching
Domino's – $5,000 for donation matching
Perpetual – $10,000 for donation matching
Macquarie Group has chipped in $15,000 for the Virtual Rainbow night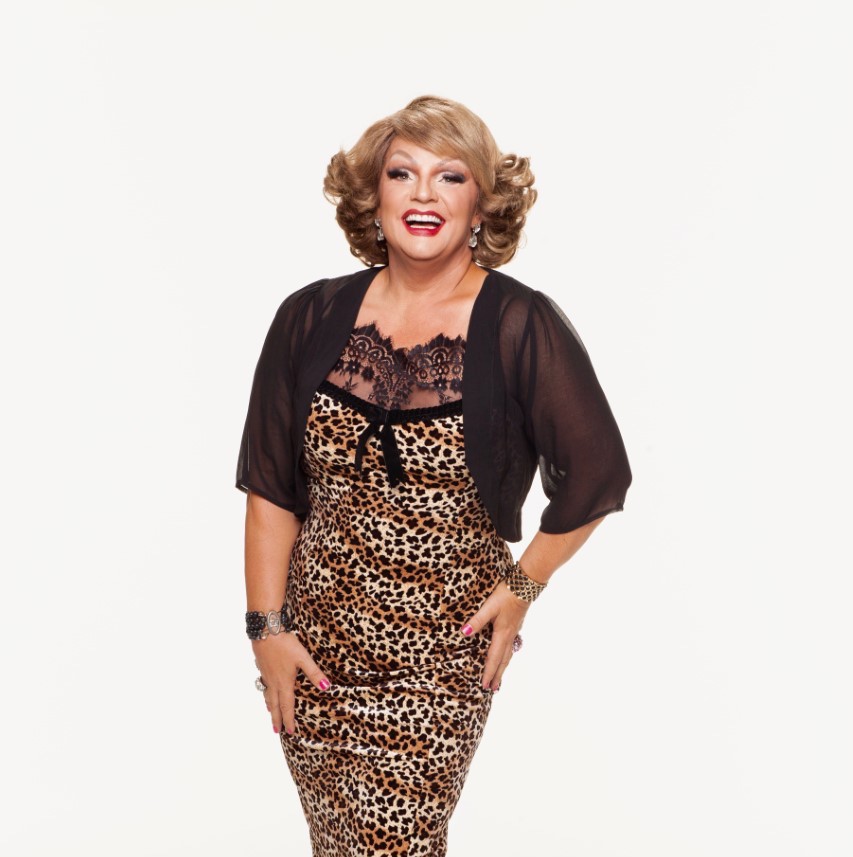 Dolly Diamond is one of the faces of GiveOUT.
That comes on top of past grants funding from Perpetual, the US-based Arcus Foundation, and the Victorian Government.
We've already mentioned GiveOUT's donations blitz, which incorporates a crowdfunding effort to spark donations from LGBTIQ+ supporters nationally. And while it doesn't have members or alumni, it boasts a large and talented committee and a growing supporter and volunteer base. Special events are well and truly covered. Sales form only a tiny fraction of its income, but GiveOUT has done well from community-business partnerships. That brings us to the importance of …
Build (and maintain) strong partnerships
GiveOUT has built relationships with 14 major supporters across every industry, including media, the law, philanthropy, the arts, business, and Our Community's Innovation Lab, which houses a team of data science experts.
Each partner contributes to the fundraising effort in one way or another. Radio station JOY 94.9 FM, for example, offers pro bono PR, social media help, advertising and program coverage.
The past four years of relationship building are paying off, because building new bridges is tough right now, Mr Pharaoh said.
"Corporate fundraising has been difficult this year. Budgets are being reduced and funding is typically flowing to fewer organisations.
"For GiveOUT Day, we have managed to secure funding via known contacts and past funders, but no 'cold' avenues as such."
Mr Pharaoh described Domino's as "an excellent new funding partner in the LGBTIQ+ space".
You can read more about building and maintaining partnerships in Fundraising during the COVID-19 crisis: top 10 tips.
Recruit ambassadors
If you want to cut through the noise of all the other fundraisers and events competing for attention, it's important to recruit supporters who'll speak out on your behalf.
Luckily for GiveOUT, the LGBTIQ+ community is full of great talent and creative types.
This year, GiveOUT has recruited transgender performer Dolly Diamond alongside former Olympic bobsledder and rugby player Simon Dunn.
Dunn, an icon of the scene who continues to make his mark as an activist, said the event helped fill a critical funding gap.
"GiveOUT Day gives grassroots LGBTIQ+ charities who may traditionally be underfunded the opportunity to garner support and raise much needed funds to continue to carry out their vitally important work."
Dolly Diamond, who has had a sparkling career in comedy and cabaret, including as past artistic director of the Melbourne Cabaret Festival, is also a great fit for the event.
"We know that so often some of the lesser known community groups are overlooked when it comes to funding, and as an ambassador, I'm hoping to rectify that," Dolly said.
"Fundraising is serious business, but I'm onboard to make it fun and to entertain our large online audience on the day."
Back up your ask with the facts
GiveOUT has on hand a stack of great reasons why supporters should donate to the LGBTIQ+ community.
Mr Pharaoh said that while the community received only a fraction of the funding of other sectors and groups, people identifying as LGBTIQ+ suffered more from discrimination, as well as inequality in healthcare, housing and social justice.
A report produced with the help of Our Community's Innovation Lab, Funding to LGBTIQ+ Causes in Australia, showed just 0.23% of philanthropic funding in Australia was specifically earmarked for LGBTIQ+ causes in the five years from 2013 to 2018.
Mr Pharaoh said GiveOUT Day provided a powerful antidote to challenging problems that were likely to have worsened during the pandemic.
"Forty-four per cent of our LGBTIQ+ population hides their sexual orientation or gender identity in public for fear of violence or discrimination. Even when accessing services, a third still hide their sexuality or identity."
He said funds raised on GiveOUT Day would help grassroots community groups provide safe spaces and targeted services for LGBTIQ+ people across Australia.
Communicate well, communicate frequently
Using a combination of mainstream and niche media, email, Facebook, Instagram, LinkedIn, videos, word of mouth and ambassadors, GiveOUT has pulled out all the stops to get its message out.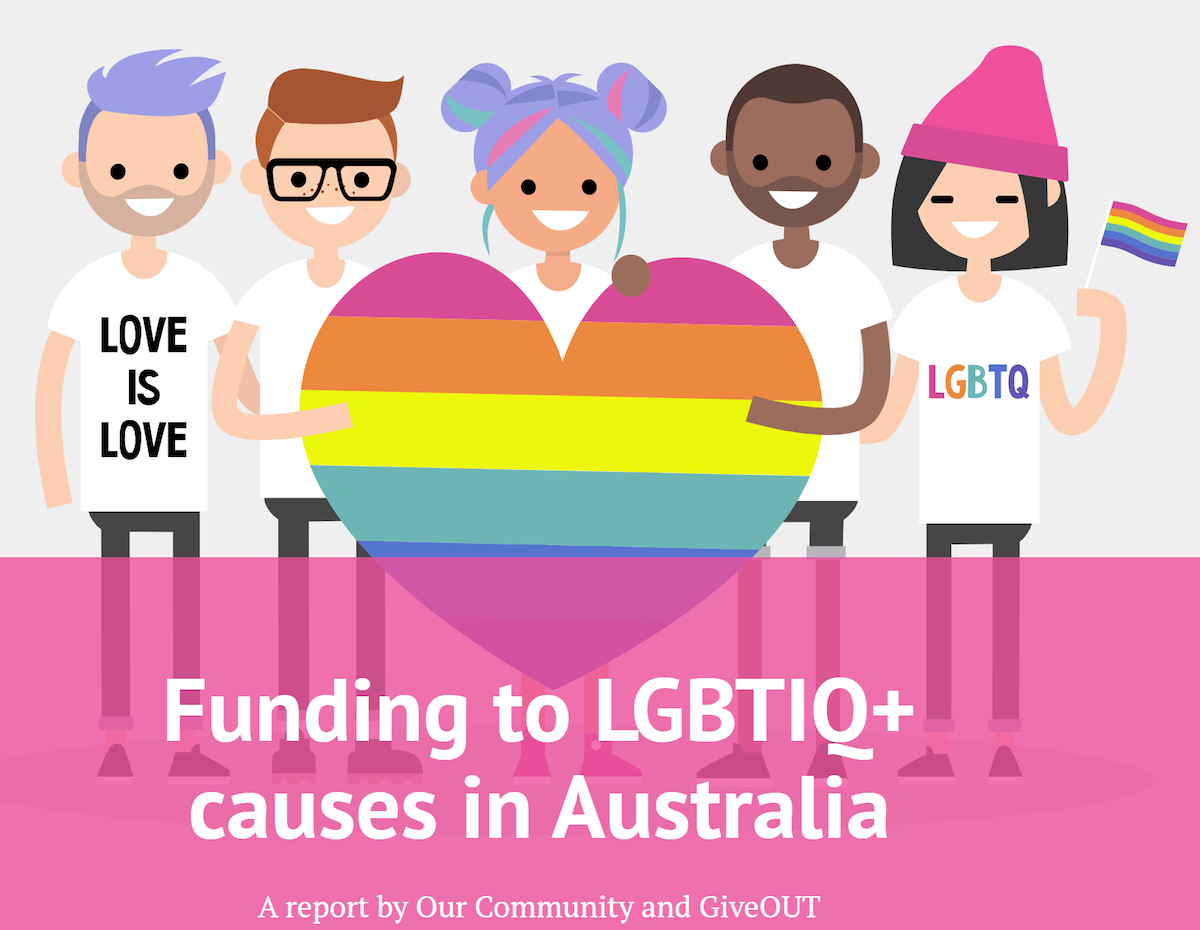 GiveOUT has helped back up its case with hard facts such as in this report: Funding to LGBTIQ+ Causes in Australia
Visitors to the campaign website are encouraged to sign up for regular updates. Social media posts invite connection, and the campaign is making good use of its partners to help spread the word
Mr Pharaoh said GiveOUT's large committee of volunteers from around Australia deployed their own networks and skills to create awareness of the day.
How could I do something like this?
We're glad you asked. Our Community is hosting the global generosity effort Giving Tuesday on December 1, 2020, with hundreds of not-for-profits expected to sign up.
Sign up for GivingTuesday 2020 and start planning your own campaign.
MORE INFORMATION
GiveOUT: giveout.org.au | 2020 campaigns | 2019 results

Giving Tuesday: givingtuesday.org.au | 2019 summary | Fundraising campaign tips | Impact report