The study also highlighted the 43% of donors who gave indirectly – that is, through a third party. This was in large part a result of celebrities, banks, supermarkets and other organisations making calls for support. In 30% of cases donors weren't even sure which charity they had supported.
For 80% of donors, their decision was influenced by the media, friends and social media.
Mr Paul said in the study that this combination of factors was a powerful reminder of the need to form partnerships: "Charities must always remember, it is not about them, but the difference they make."
In a related finding, about one-quarter of donors gave using multiple fundraising "channels" or to multiple appeals.
In another significant finding, 58% of those surveyed supported the creation of a single entity to collect donations for all charities.
The survey also revealed that donors aged 35–44 years were the biggest givers, whereas traditionally charity donors tend to be older.
Importantly, the survey suggested that donations to non-bushfire causes are not expected to drop, despite the generosity shown towards bushfire victims, and the finding that 48% of people now think there are too many appeals.
According to FIA CEO Katherine Raskob, the 2019–2020 bushfire season had prompted close to $500 million in donations by the middle of January.
"During crises like these, Australians prove time and again their incredible generosity, going deep in their pockets to give."
And she said previous studies, such as those into the 2004 Southeast Asian tsunami, the 2011 Queensland floods and the 2009 Victoria bushfires, showed that "people continued to give to their favourite causes while donating to the disaster relief effort at hand".
"Those studies suggest that rather than replacing their regular donations, Australians tend to give for a compelling and urgent need, in addition to their regular giving."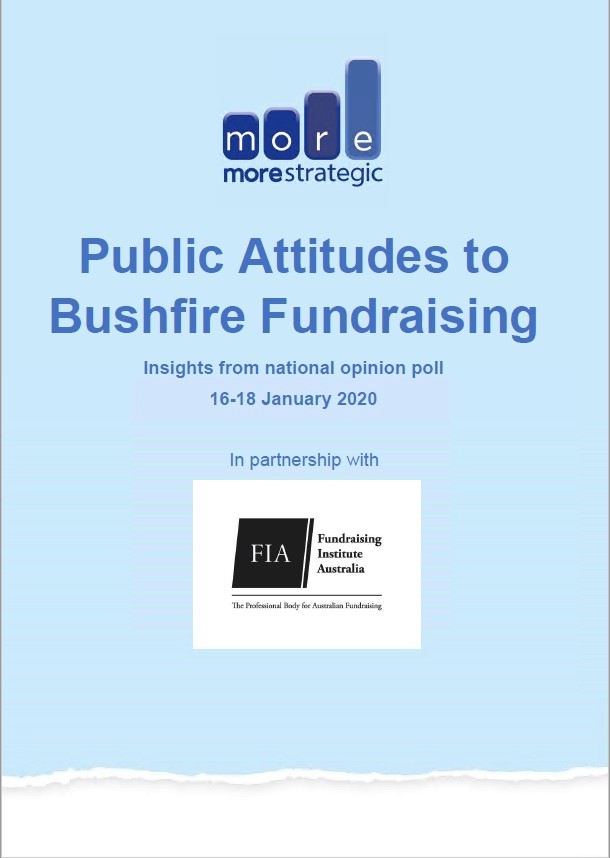 MORE INFORMATION