Funding overseas aid and development on a tax deductible basis
TAKE AWAY: Establishing an overseas aid fund is an uncertain journey. It can be expensive and it can take years. Making donations to or partnering with an existing organisation may be an easier option.
---
Moores has acted for many clients to establish and maintain legal structures that undertake overseas aid and development.
On the basis of our experience, we have set out below the main options for funding overseas aid and development on a tax deductible basis.
Option 1
Make donations directly to an existing organisation. The simplest option is to make donations to an existing organisation endorsed as an overseas aid fund.
Option 2
Establish your own overseas aid fund In order to seek endorsement as an overseas aid fund, an applicant must:
be registered as a charity with the Australian Charities and Not-for-profits Commission;
be declared an "approved organisation" by the Minister for Foreign Affairs;
establish a "developing country relief fund" and await assessment by the Australian Taxation Office; and
be approved by the federal Treasurer.
The journey is expensive and uncertain and can take years. In addition to the difficulties in obtaining endorsement as an overseas aid fund, there are restrictions on the support overseas aid funds can provide. Tax-deductible funds raised through overseas aid funds can only be used for "development and/or relief" for at least one year in declared "developing countries". "Development and/or relief" is defined to exclude welfare, evangelism and partisan political activities.
You can find more details regarding the process and parameters on this ATO Fact Sheet and in the Overseas Aid Gift Deduction Scheme Guidelines.
Option 3
Partner with an existing overseas aid fund Given the difficulties of Option 2, an alternative is to partner with an existing overseas aid fund, to conduit money from Australia to a development project overseas. An agreement is generally made between the two organisations to provide that funds raised are to be applied to a preferred project or projects approved by the overseas aid fund.
Option 4
Partner with an existing overseas aid fund, via your own ancillary fund Another option is to establish an ancillary fund which is a "conduit" entity. An ancillary fund can be either public (receiving donations from the public) or private (receiving donations only from limited sources). For more information, see the help sheets on public ancillary funds and private ancillary funds. The purpose of an ancillary fund must be to provide money to deductible gift recipients (DGRs) that are not ancillary funds. As with Option 3, an ancillary fund can enter into an agreement with an approved overseas aid fund to finance specific projects. Therefore the ancillary fund would receive donations, provide tax deductible receipts to donors, and then distribute the funds to the overseas aid fund.
This is an attractive option for entities that wish to partner with another organisation, and also maintain their own separate identity.
Here are some examples of existing overseas aid funds that may enter into this kind of partnership:
Global Development Group – Australia
Australian Hope International
World Relief Australia
This diagram illustrates how this arrangement would work: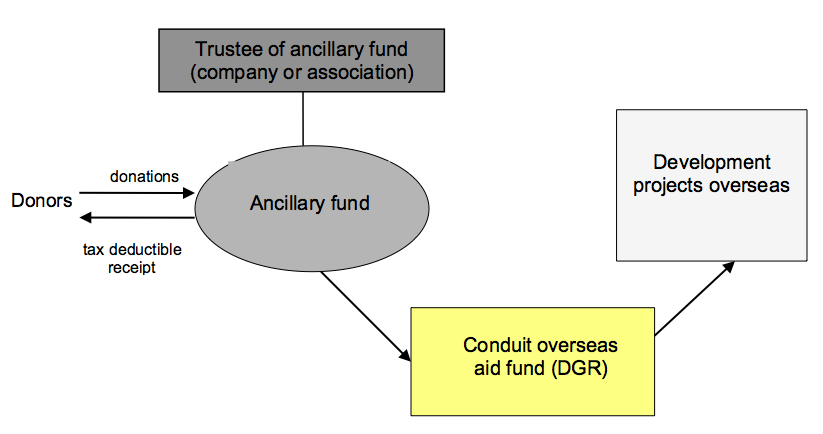 Getting help
If you'd like to explore opportunities to fund overseas aid and development, contact the Moores not-for-profit team on (03) 9843 2158 or nfpsupport@moores.com.au
They can provide more detailed advice tailored to your circumstances and objectives.
Disclaimer: This help sheet has been prepared by Moores, not-for-profit legal advisers. It provides a general guide and should not be relied on as (or in substitution for) legal advice.