Private ancillary funds
TAKE AWAY: A private ancillary fund is a form of charitable trust that can be used for strategic long-term giving. Unlike a public ancillary fund, it cannot seek or receive public contributions.
---
Ancillary funds are special funds that provide a link between people who want to give and organisations that can receive tax-deductible donations (these organisations are known as deductible gift recipients, or DGRs). They may be public or private, and they provide money, property or benefits to DGRs.
What is a private ancillary fund?
A private ancillary fund, or PAF, is a form of charitable trust that can be used for strategic long-term giving. It offers donors tax deductibility and flexibility in their charitable giving. Private ancillary funds differ from public ancillary funds in that they cannot seek or receive contributions from the public. Like public ancillary funds, private ancillary funds must have corporate trustees.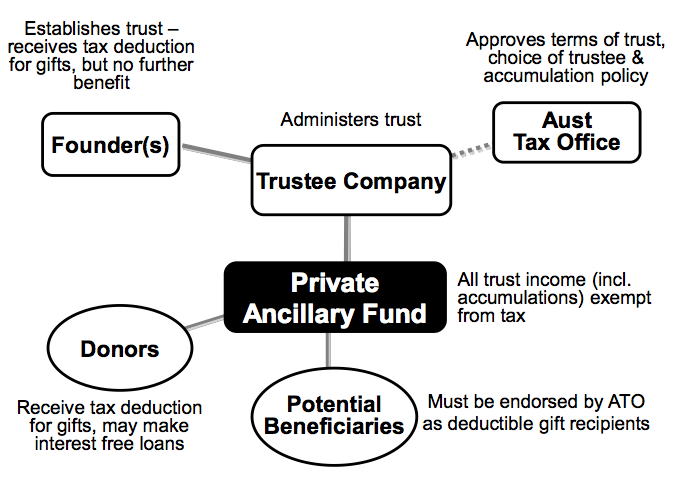 Benefits of private ancillary funds
A PAF can be used to further your philanthropic objectives in a controlled and enduring way. It enables:
income tax deductible giving;
the ability to retain control over which Deductible Gift Recipients receive distributions;
income tax exemption for income earned by the fund, including capital gains.
Trustees
The trustee of a private ancillary fund must be a corporation, not individuals. The directors must include at least one "responsible person"; that is, an individual who has a degree of responsibility to the general community (e.g. a school principal, religious practitioner, solicitor, doctor or chartered accountant).
That person must not be:
a founder
a major donor
an associate of a founder or major donor.
Other features of private ancillary funds
A PAF has the following additional features and requirements:
Every year, it must distribute at least 5% of the fund's net assets or $11,000, whichever is greater, to Deductible Gift Recipients, except in the year of establishment. A fund can distribute only 5% (even if this is less than $11,000) if it meets its running costs from outside the fund.
It cannot seek donations from the public, but must retain its private character.
Its financial statements must be audited every year.
It must have a formal investment strategy.
Generally, private ancillary funds cannot borrow money, must maintain investments on an arm's-length basis, and must not provide assistance to related parties or acquire assets from them (other than by way of gift).
Getting help
If you'd like to explore the establishment of a PAF, please contact the Moores not-for-profit team on (03) 9843 2158 or nfpsupport@moores.com.au.
They would be happy to provide more detailed advice tailored to your circumstances and objectives, and assist with the establishment of your fund.
Disclaimer: This help sheet has been prepared by Moores, not-for-profit legal advisers. It provides a general guide and should not be relied on as (or in substitution for) legal advice.