Celebrating excellence in the community sector
Nominations for the 2015 HESTA Community Sector Awards now open.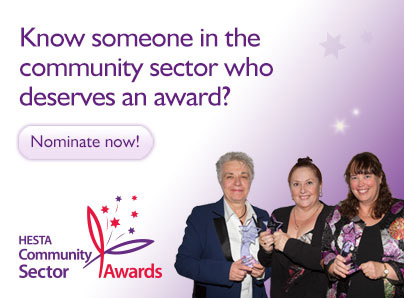 The awards - presented by HESTA in partnership with the Australian Council of Social Service (ACOSS) - acknowledge excellence in service provision, advocacy and leadership in the sector.
They provide an opportunity to shine a light on the innovative services being provided in our community and pay tribute to the commitment of those working in the sector.
There are three award categories - Unsung Hero, Organisation, and Social Impact.
HESTA CEO Anne-Marie Corboy urged people to nominate an individual or organisation that has made an outstanding contribution to social justice in Australia.
"We want to acknowledge these people and organisations for their resourcefulness, compassion and long-term commitment to helping vulnerable Australians," she said.
The winners will share in a prize pool of $30,000.
Finalists receive complimentary conference registration for the ACOSS National Conference and will be flown to Sydney to attend the Awards dinner in June 2015.
To make a nomination or to find out more about the awards, visit www.hestaawards.com.au.