Fund busts a move to tackle disadvantage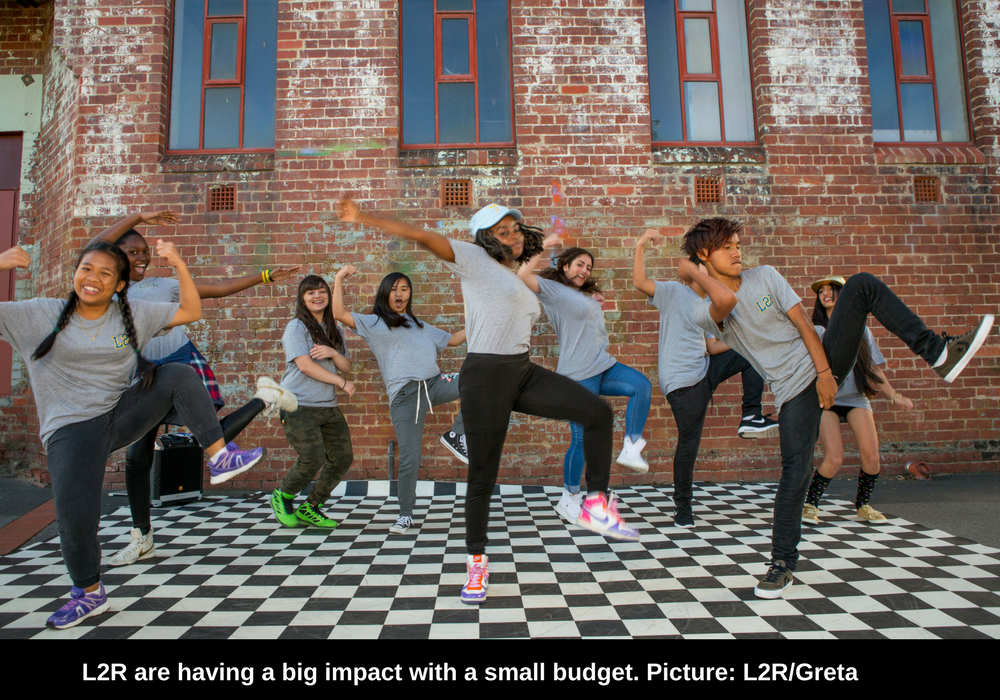 Dance-based, grassroots charity "L2R" in Melbourne's west has benefited from winning a $10,000 quick response grant in the past financial year through the Sidney Myer Fund's poverty and disadvantage program.
Using the "universal language of dance" to engage with disadvantaged and newly-arrived, migrant and refugee background youth, L2R founder and CEO Jacinda Richards has praised the program.
"We're only a very small organisation and we're only in our first couple of years of being a charity so $10,000 is a lot for us. It's really fantastic."
Ms Richards said the foundation's cash injection helped it deliver its core program "Moving to Empower", a three-part program comprising of "Next Gen" for the 12-25s, "Panda Squad" for the younger ones, and "Breaking at Braybrook" which focuses on breakdancing for young men.
Over 120 young people are using its free program, with participants from 22 different cultural groups including Burmese, Myanmarese, West African, East African, Vietnamese, Chinese, Anglo-Australian, Chinese, Iranian, Indonesian and Indian.

Ms Richards says while "dance is our medium to connect with young people", that's just the start.
"We use that to do to all sorts of other things, like youth advocacy, mentoring, dance teaching, job pathways, careers, camps. It really goes beyond the dance studio. For some kids the dance is secondary, it's a social thing, it's a second family, it's a place to come and get some food and some high fives."

She says the kids of L2R "all have lots of different reasons for being involved".
"We all share a passion for dance, but there are often hidden things – such as English as a second language, broken families – through their migrant and refugee backgrounds, there's so many barriers."
Critically, L2R says the first grant also "opened the door" to working more closely with the Sidney Myer Fund, including meeting their leaders and inviting the fund representatives to get more involved in the dance program.
The organisation continues to firm up the relationship, and hopes to develop further ways of sustaining the goals of L2R with organisational support and program delivery.
"They're keen to be involved, so we're positive," she said.
She's praised the application process, which uses the SmartyGrants system, and which she found relatively swift. The foundation says participants should allow for three months, but it was able to secure the money in about two.
Ms Richards said the process was all online, and that the foundation seemed to have "a great understanding of the capacity of small organisations."
"I know this from filling out other grants, where it's like 'really?' with other organisations' requirements. I know $10,000 is a lot of money, but it can be so much work to do some applications, especially if you have to provide program planning and strategic planning for the program – but none of that was necessary for this application".
"It was a great, easy process," she said.
The Sidney Myer Fund's Small Grants Programs – worth just under $1m each year – is divided into two areas: Poverty and Disadvantage, and Education Programs, with the focus to provide quick responses to community needs, Australia-wide.
Education small grants backs projects for those up to 25 years old, while the Poverty and Disadvantage grants are currently targeted to asylum seekers in Australia.
They're all labelled quick response grants though, with recipients told to expect up to three months' wait, although it appears it can be significantly less than that.
CEO of The Myer Foundation and Sidney Myer Fund, Leonard Vary, says the grants "provide small injections of funds to community projects which otherwise might not happen."
"The Small Grant Programs in the Poverty & Disadvantage and Education focus areas provide grants of up to $10,000 for projects with total budgets of not more than $50,000," Mr Vary says.
"Applications are accepted on an ongoing basis and decisions are usually advised within a three to four month timeframe."
Quick response grants release funds to applicants more swiftly. Sometimes, they're distributed in hours or weeks, but definitely within a few months. They often free up time because of a speedier application process and far looser criteria set.
The Funding Centre's Grants Database features a wealth of quick response grants from a variety of sources, including government, as well as philanthropic, community and corporate trusts and foundations.
If you haven't already, adjust your settings to receive email grant alerts relevant to your organisation here, browse the database, or check out our monthly newsletter to stay up to date.