What's in the Federal Budget for your organisation?
In this special Funding Centre bulletin, we've trawled through the budget papers to discover grants news that could affect you, both good and bad.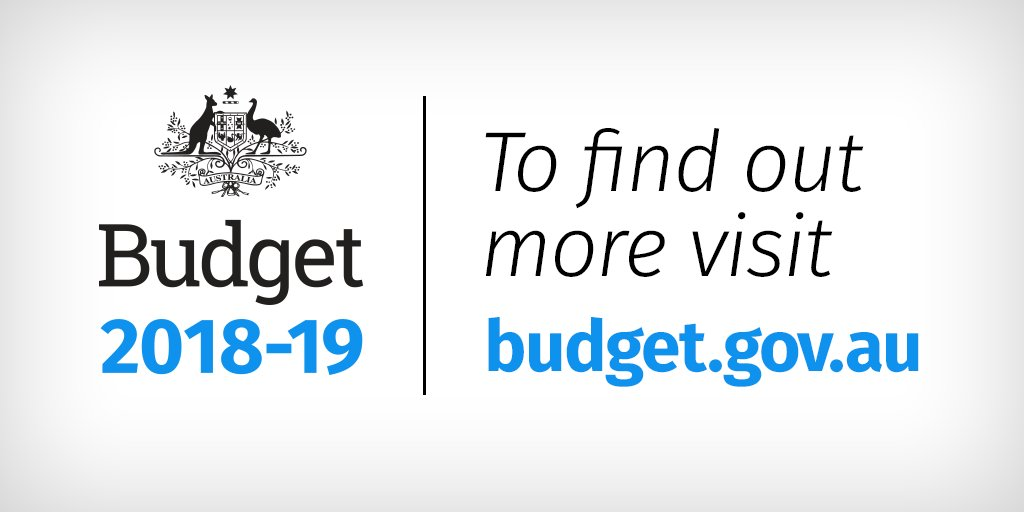 About the budget
Treasurer Scott Morrison pitched a pre-election budget last night at voters, with modest tax cuts and a plan to get the budget back in the black.
There's a shakeup of research and development spending, help for small business and pensioners, a commitment to the NDIS, but no significant help for youth.
The centrepiece tax cuts are worth $530 for those earning up to $90,000 in a move that drew fire immediately from some community organisations, such as ACOSS, which were disappointed more wasn't being done to help the disadvantaged.
The Community Council for Australia (CCA) also said the budget had failed to significantly boost health, aged care, education, housing and support for those in need.
CCA chief David Crosbie said it would have preferred a budget "that supported the marginalised rather than punished them, that prioritised community building and social infrastructure rather than placing so much emphasis on reducing taxes for business."
Here's some of the new spending the government has been touting today.
$977 million more for hospitals over four years
$770 million extra for pharmaceutical benefits over four years
$440 million for remote indigenous housing NT $393 million for national research infrastructure investment
$260 million targeted older Australians with "finances for a longer life"
$247 million for national chaplaincy program (targeting bullying)
$207 million Building Better Regions fund
Major cuts (2018-2022) include:
$416 million taken from visa cuts for overseas GPs
$302 million saved by pushing patients onto generic medicines
$299 million recovered from welfare debt
$270 million in cuts to spending on new migrants, refugees
Where the money (and grants) are going
Infrastructure
Community
$5 million for the Fostering Integration Grants Scheme to fund community organisations assisting newly arrived migrants to integrate into Australian society
$30 million over two years to extend the Safer Communities Fund (SCF) for crime prevention grants for local government and community organisations
Health and Sport
$1 billion over two years for Health Innovation Fund trials supporting preventive health
$29.7 million for sporting infrastructure development grants of up to $500,000 to improve community sporting facilities with up to 500 for local community groups
$11.8 million over four years to expand the Local Sporting Champions program to support young Australians to participate in sporting competitions
$41.7 million over two years to expand the Sporting Schools Program
$154 million for active and healthy living, including $28.9 million over four years for national sporting organisations to boost participation in sport, and $19.8 million over four years for the Australian Sports Commission (ASC) for it to fund sports
NDIS
$43 billion allocated to the scheme in forward estimates
$64 million over three years for an NDIS jobs and market fund to develop resources to assist disability service providers for provider toolkits, good practice guides and service coordination platforms
$92.1 million extra over five years to support people ineligible for the NDIS, but supported by programs transitioning to the NDIS
Additional funding to support disability advocacy organisations (figures not available)
Aged Care
$1.6 billion over four years to add 13,500 residential aged care and 775 short-term care places for elderly Australians
$40 million for capital grants (infrastructure and upgrades) over four years for aged care facilities in regional, rural and remote Australia
Education
$393 million for national research infrastructure investment
$247 million over four years to renew and continue the National School Chaplaincy Programme. The program supports the wellbeing of students and school communities through the provision of pastoral care services and other support services.
$63 million cut from the Endeavour Mobility Grants and Scholarships and Fellowships programs, targeting "research and mobility opportunities" combining them into the Endeavour Leadership Program now worth $119 million over four years
Environment
$23.1 million over four years from 2018-19 for the Australian Heritage Grants Program (AHGP). The money will come from cuts to existing heritage programs and existing budgets
$500 million for Great Barrier Reef restoration, engagement with traditional owners, tackling the crown-of-thorns starfish, and environmental management
Welfare
$299 million recovered from welfare debt will be put into "budget repair"
Business
$2.4 billion saved as a result of a $4 million cap on the Research and Development Tax Incentive for companies with a turnover below $20 million (Clinical medical trials will be exempt from the cap)
Charities
$1 million in 2018-19 to the Australian Charities and Not-for-profits Commission (ACNC), to meet the costs of anticipated litigation while regulating charities and charity registration
$321 levies among new ASIC user fees for companies, including those that are also registered charities
Rural and Regional
$200 million for the Building Better Regions Fund, including the Infrastructure Projects and Community Investments Streams
$400,000 in grants over five years to help small exporters access to international markets under the Australian Agriculture and Export Growth Plan.
$1 million worth of grants to support employment-related projects that invest in local communities and job seekers in 10 disadvantaged regions as part of the Government's Regional Employment Trials Program
Women
$10 million to ASIC for a grant to support initiatives to enhance female financial capability.
Please note, this is what drew our attention in our reading of the budget papers, but we'll be keeping a close eye on further announcements of grants opportunities as more is known, and will include them in your regular updates.
Visit: www.budget.gov.au for summaries, papers and more.